The Efficient Golfer
Author's Bio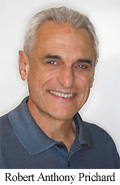 Robert Anthony Prichard has been working with golfers since 1980. 

His professional golfers have had extraordinary success after working with him. Se Ri Pak won the US Open as a rookie in July 1998 after working with Mr. Prichard in May of that year. A week later she won the Jamie Farr Classic with a round of 61 and a tournament score of 261, both LPGA records. David Frost improved his ranking in putts per round from #113 to #1 after working with Mr. Prichard in 1997 and 1998. Miriam Nagl quadrupled her tour income and won her first tournament in two years. Guy Hill increased his longest drive on tour from 295 to 400 yards.
Mr. Prichard's amateur and professional golfers have been able to rid themselves of chronic back pain with his program of Microfiber Reduction. One example is a 52 year-old golfer who was not able to play for two years because of the severity of his back pain. After completing his Somax program, he played two rounds a day for four days without any back pain. Another client had to take 4 - 200mg tablets of ibuprofen to get through a round. After working with Mr. Prichard he was able to play without any medication.
Prichard has written widely on sports mechanics for Golf, The New York Times, The Runner, Swim, Swimming Technique and Women's Sports and Fitness. His work has been the subject of articles in Golf Digest, Sports Illustrated, Runner's World, Sport,Ski, Popular Science, Los Angeles Times and San Francisco Chronicle. He has appeared as a sports analyst in numerous broadcasts, including the Olympics for NBC Sports. He has given standing-room only presentations at coaching and scientific meetings in the US, Australia and Europe. He holds two patents for sports training aids.
His clients include such well-known athletes as Kareem Abdul Jabbar, Nick Faldo, Matt Biondi and Amy Van Dyken.
Mr. Prichard lives and works in Tiburon, California, 10 minutes north of San Francisco.